It's been a year since we first went into lockdown, and it's been a year that's challenged us all. Whilst so many things have changed dramatically as a result of Covid-19, the world has adapted and we've found new ways of thinking, new ways of working, new ways of acting.
Like countless others, we had to change our approach at the start of the pandemic, but we didn't change our goals. We may have closed our studio doors, but we stayed open in other ways.
Work (out) from home
During the nationwide lockdown, the team at The Kensington Studio wanted to support the community and help as many people as possible to stay fit and healthy, both physically and mentally, throughout the uncertain times we found ourselves in.
And so, back in March 2020, The Kensington Studio began offering online exercise classes. Open to everybody, our daily workouts from home have been a great opportunity for everyone to stay active, whilst also staying safe.
Like the rest of the nation, we didn't know how long the lockdowns and restrictions would last, and we've kept our online fitness classes running throughout. For the first seven months of the pandemic, all of our personal trainers offered their time for free, and together we delivered more than 500 free fitness classes. That's over 250 hours of heart-pumping, ab-crunching, muscle-strengthening free workouts!
Since then, The Kensington Studio trainers have continued delivering online training classes and are still supporting you to be fitter, stronger and healthier. We have loved seeing so many people join our classes each week, not just from West London, but from far and wide, up and down the country.
Our purpose is to support you in achieving your wellness, health and fitness goals, whatever they are and wherever you are.
Now here we are one year later, the vaccine is being rolled out, schools are reopening, but the world is not yet back to "normal" and activities are still limited. Perhaps now more than ever, it's important to check-in with your body. Having spent so much time in our homes this past year, we are seeing a rise in the number of people presenting with postural issues, whether from remote working without a proper office set up, watching more Netflix or simply just having a less active lifestyle during the pandemic.
It's so important that we keep our bodies moving, and it's never too late to make a change. With so many restrictions in place during the lockdowns, having an exercise routine has become even more important. Every time you exercise, you're helping your body to get fitter, stronger and healthier, and with that, you help your mental health. Exercising with others during a live fitness class and getting support and advice from The Kensington Studio trainers is a great way to stay physically and mentally strong.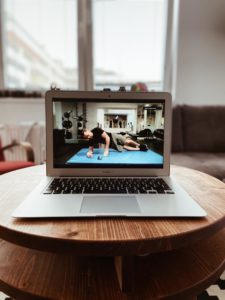 Online exercise, anytime
All of our online fitness classes are still taking place, seven days a week. We run a variety of live online classes everyday which cater to all fitness levels and target different body areas and muscle groups. Take your pick from our range of 15 weekly classes, focusing on strength, cardio and mobility.
Whether you're an early bird ready to workout before starting work, or you'd rather a gentle mid-morning stretching class or a lunchtime bodyweight workout, we have live online classes to suit all abilities.
If your schedule is tight and you can't make a live class, or you just want to try a class at a different time, then we have launched The Kensington Studio Online Portal, where all of our recorded classes can be accessed. Once you subscribe, you can workout from anywhere, at any time, any day of the week!
We want to help you get and stay physically and mentally strong with these fitness classes.
Some of the benefits of taking our online exercise classes include:
1. Get stronger
You can increase your strength with resistance training, using weights, resistance bands or your own bodyweight.
2. Get leaner
You can tone up your whole body, including your abs, glutes and thighs.
3. Get flexible
You can improve your flexibility and balance with mobility and stretching.
4. Get calmer
You can find peace and stillness with breathing and mindfulness.
5. Get fitter
Most of all, you can improve your overall fitness with all our classes!
A huge shout out to each and every one of you who has participated and taken action to improve your mental and physical fitness routine during the pandemic. Thank you for supporting our personal trainers and allowing us to support you during these difficult times.
Please remember to check with your doctor if you have any health concerns before starting a new exercise programme, especially if you have any concerns about health conditions, fitness levels or haven't exercised for a long time. We can't wait to see you in class!
Update: As of Monday 12th April 2021, in line with the easing of lockdown restrictions, The Kensington Studio is reopening! We're excited to get back in the studio and offer face-to-face personal training sessions again, but sadly, it means that we have to pause the online exercise classes for the moment. However, we still have hundreds of online exercise classes available online, so if you would like membership to The Kensington Studio Online Portal then please do get in touch. Thanks and hope to see you soon!
Tags:
anytime
,
bands
,
bodyweight
,
fatloss
,
fitness classes
,
fitter
,
gym
,
gyms reopening
,
healthier
,
healthy lifestyle
,
live
,
lockdown
,
online
,
online classes
,
personal training
,
portal
,
posture
,
strength
,
stretching
,
stronger
,
workout