Tiago is a 17 year old Portugese student that did an internship troughout May at The Kensington Studio.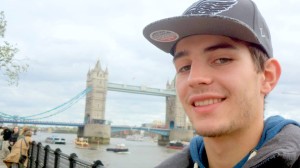 What would you say is the biggest difference from living in Portugal VS London?
For me the biggest difference is that in Portugal we are used to a smaller "world" with less cultural diversity and less population, so it's all a lot calmer than in London.
Can you run me through a common eating day in Portugal?
Breakfast would be a cup of milk with cereal, toast with butter and a piece of fruit.
Lunch might be some vegetable soup, rice with steak, a side salad and another piece of fruit.
Then finally for dinner another serving of soup with baked potatoes, fish, vegetables and we enjoy fruit salad or jells after.
Alongside our meals we enjoy water, wine, fruit juice or a soda.

Do people in Portugal tend to snack or focus on 3 set meals?
In Portugal most people prefer to enjoy large meals but we do enjoy a midmorning snack such as a sandwich or some cookies.
Do people pay importance to living a healthy lifestyle?
Portuguese people increasingly pay more attention to their health and there has been a rise in people engaging in physical activity and joining a gym.
However, I think that most people still don't realize the importance of eating a healthy diet – they could pay more attention to this.
Is junk food something that's very common?
Yes Junk food is a very normal thing in Portugal, and there is plenty of junk food – the number of people with obesity has definitely increased.
Would you say it's easier to live healthy in London or back home?
I think there is not that much of a difference.
In Portugal the variety in fast food restaurants is a lot smaller and where I grew there was an abundance of healthy food and vegetables.
In London you have it both ways: a large array of fast food restaurants but just as many good restaurants and stores that provide healthy food.
In the end it all comes down to choosing the right kind of foods.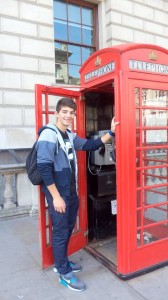 Do people in Portugal tend be active?
People in Portugal are very active and most of them have jobs that require them to keep moving.
They are now offering physical education classes in nursing homes to make sure that the elderly stay healthy and active too.
Any surprises about London?
Every day I'd be amazed discovering new streets, the architecture, the technology – it's just such a beautiful city.
Seeing all the monuments that are known worldwide and you've always seen on photos and on television was truly amazing.
The weather also surprised me because I expected it to rain most of the time but luckily that turned out to be very different, it's not half as bad as people say.
What did you enjoy most about London?
I loved many things, such as the beauty of the city, the energy of the people starting early in the morning that seems endless, the work flow, the organization, thearchitecture and the fact that people enjoy physical exercise.
I think this is a very interesting and absolutely amazing city.
What did you enjoy most about working in the studio?
I loved all the tasks that I performed here, because they were all interesting and helped me acquire a lot of knowledge.
I loved shadowing the personal trainers, as that could be something I'd like to do in the future. It was great to see that there are so many different exercises and ways to perform that. There are so many ways to help a client achieve their goal!
Do you see yourself working in a studio like this in the future?
Yes completely, I would love that.
In my opinion this is the ideal studio for any personal trainer to work – you have all the equipment you could possibly need, and it's a high quality amazing space.
I would love to return to London one day and make a visit to the Kensington Studio, possibly as a professional footballer, which would be my dream.
Second best as a personal trainer, which would be fantastic too.
I am very grateful to have been given this opportunity loved my experience at The Kensington Studio, it couldn't have been any better. A big thank you to Adam Naylor, Steve Mongey and Amber Krol.
Tags:
diet
,
exercise
,
fitness
,
health
,
lifestyle
,
london
,
nutrition
,
portugal