I've yet to meet someone that doesn't like mashed potato, it has to be one of the most comforting side dishes.
As a lighter alternative try using cauliflower instead of potato: you will be surprised at how satisfying this is.
Any recipe serving 2 that includes a whole head of garlic has me sold!
Thank you Rebecca for this beautiful recipe – this is just one of MANY amazing paleo recipes on PaleoGrubs.
I have told you before how much I love the versatility of cauliflower. This recipe is the start of that love story. The day that I discovered how similar mashed cauliflower tastes to mashed potatoes, was the day I started loving cauliflower. It was my gateway recipe to the world of transforming vegetables into meals you love. This recipe is one of the easiest to prepare. There are essentially three ingredients: cauliflower, almond milk, and garlic.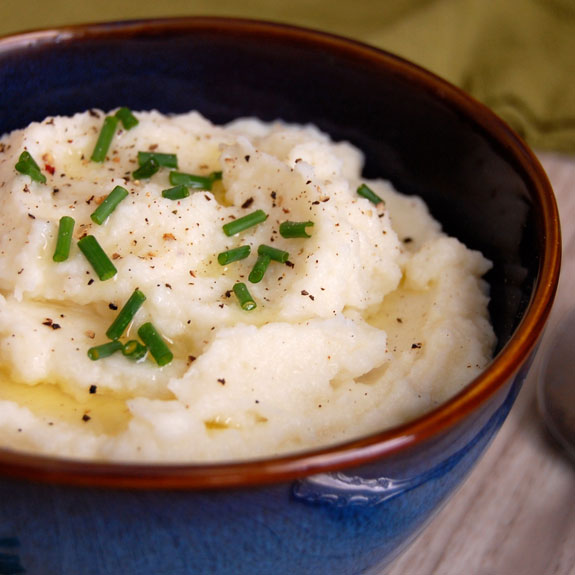 At our last get-together, I even tricked my family into eating mashed cauliflower instead of potatoes. They loved it. This is not just a dish for people eating Paleo, it is for everyone. Serve it in lieu of potatoes to lighten up your next meal.
To start this recipe, you heat up the oven and prepare the garlic. Then while the garlic is roasting, prepare the cauliflower. It doesn't really matter how particular you are when chopping up the cauliflower into florets, because it will all be blended later anyways. The cauliflower is steamed for 12-14 minutes (which is much faster than boiling potatoes, if I may say so). Then it is blended with the rest of the ingredients.
For the measurements of almond milk and ghee, remember that you can always add more. You definitely don't want to end up with soupy cauliflower, so add them in slow increments when blending.
I believe that the addition of roasted garlic really elevates this simple dish. Once the garlic is roasted and you let it cool or a few minutes, you can squeeze the garlic right out of the clove. I may or may not have added an entire head of roasted garlic to my mashed cauliflower. Feel free to use less of course. Though it's a little extra time, roasting brings out so much more flavor than raw garlic would. Definitely worth it.
Once again, I love to use my immersion blender for recipes such as this, or for soups. Mainly because there is no need to transfer hot ingredients to and from a food processor or blender. Instead you can blend the cauliflower right in the pot.
One head of cauliflower will only serve about two people, which is perfect for my boyfriend and I. But if you are going to make this for a crowd I recommend doubling the recipe. It is a surprisingly delicious alternative to traditional mashed potatoes. Mashed cauliflower is an easy way to lighten up any meal, and it is plate-licking good.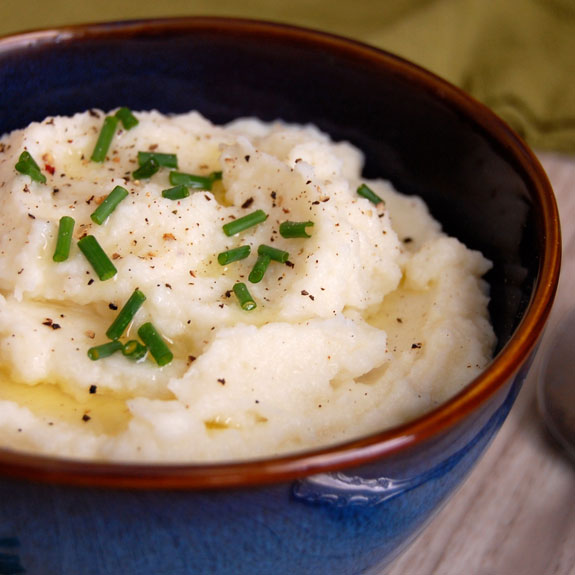 Easy Mashed Cauliflower with Garlic
Ingredients
1 large head of cauliflower, cut into florets
1/4 cup almond milk
1 tbsp ghee
Head of garlic
Fresh chives, chopped
Salt and pepper to taste
Instructions
Preheat oven to 400 degrees F. Peel away the outer layers of the garlic bulb, then cut off the very top of the head of garlic to expose the individual garlic cloves. Place in aluminum foil and drizzle with olive oil, then seal the foil around the garlic. Bake for 25-30 minutes, until the cloves are soft. Allow garlic to cool, then squeeze the roasted garlic cloves out of the skin.
Meanwhile, place a couple inches of water in a large pot. Once water is boiling, place steamer insert and then cauliflower florets into the pot and cover. Steam for 12-14 minutes, until completely tender. Drain and return cauliflower to pot.
Add roasted garlic, milk, ghee, and salt to the cauliflower. Using an immersion blender or food processor, combine ingredients until smooth. Top with chives and freshly ground pepper.